DECEMBER 20TH, Saturday: The Brooklyn Lyceum Craft Fair
at the BROOKLYN LYCEUM + CAFE
227 4th Avenue, between Union and President Streets, Park Slope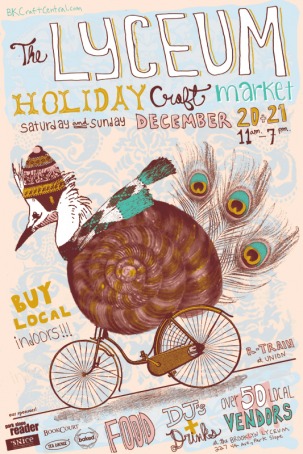 Becky Lee will be selling her jewels and accessories alongside the talented Alice Schavoir who'll be showcasing her handcrafted clothing, homewares and accessories. Come visit us for some last minute holiday shopping fun. There'll be music, food and drinks to warm you up while you chill out with some of the most talented crafters in Brooklyn. See you there!
Browse Becky's past events:
JUNE 14th & 15th: The Renegade Craft Fair
McCarren Park Pool,Lorimer Street, b/t Driggs and Bayard, Brooklyn, NY

It's back!! Come Renegade in Brooklyn! Over 200 artists and designer crafters from around the country will be represented inl Brooklyn. Shop from local and visiting designers as they showcase their one of a kind creations from 11am-7pm, Saturday and Sunday.
becky lee will be at the treehouse booth along with bobbi and sirius. stop by and say hi!
DECEMBER 9th, 10th &11th: Holiday Sale @ THE RIVIERA GALLERY, Brooklyn, NY
103 Metropolitan Ave at Wythe, Williamsburg, Brooklyn NY
Come shop some of the most amazing local designer goods, all in one gallery and just in time for the holidays! Click the link above for more details on location. Designers include hodgepodge by cal patch, 31 corn lane and sirius.
DECEMBER 17th: The BUST Magazine Holiday Craftacular!, Brooklyn, NY



The Warsaw, 261 Driggs Ave [at Leonard] Williamsburg,Brooklyn, NY (718) 387-0505
Join BUST Magazine for a massive holiday shopping bonanza running all day (and all of the night) at the Warsaw in Williamsburg, Brooklyn, featuring crowds of crafters, cocktails, DJs, and dancing! Celebrity crafters/authors Brini Maxwell, Ayun Halliday, Jenny Hart, and more, will be on hand to sign copies of their books! THANKS to Bust Magazine and all of the amazing crafters for making this such a successful event!

JUNE 25th & 26th

Come see stunning summer jewels by Becky Lee, silkscreen t-shirts by Through the Trees, I Pod Monsters and one of a kind clothing by Sirius, and amazing super creations from hodge podge by cal patch. (Along with the 150 other participating craft loving, unique and fabulous designers).
June 19th @ The Market NYC
268 Mulberry Street b/t Houston and Prince
Come see the market everyone loves! Tons of emerging designers showcase their creations in an indoor market. Great neighborhood for a weekend stroll!
June 4th: Sweet Summer Delights @ JOHNSON!
172 Orchard Street, NYC
A sweet summer sale with cupcakes, savings and Becky Lee! Now showing the current collection.
April 28-30: Trunk Show @ Henri Bendel!
712 Fifth Ave, NYC
A Trunk show previewing the summer collection at world famous Henri Bendel accessory department. Stay tuned for future trunk shows!